About Us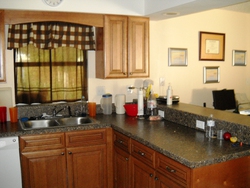 Ken has been in the remodeling and repair business for over 20 years with his beginnings in Indiana. In 1998 Ken came to Florida to spend time with relatives. After getting aquainted with Titusville and loving the weather, he decided stay.
In 2001 Ken obtained his handyman license and became insured. Building his business was not hard for Ken because of his friendly manner, communication skills, and expertise. Ken always kept the doors open for communication to ensure customer satisfaction.
Ken met and married his wonderful wife Theresa in 2009. Theresa now works along side of Ken in the office and in the field. In January 2010 they were blessed to have their 3 month old granddaughter come into their lives and are continuing to raise her. Haylee keeps them on their toes and reminds them how precious life is.
Ken would appreciate the opportunity to talk with you regarding any projects you have in mind. Please feel free to call, email or FAX Ken and Theresa.